RUSH WILSON LIMITED OFFERS A VARIETY OF PERSONALIZED SERVICES TAILORED TO THE NEEDS OF OUR CLIENTS:
 In-Office or In-Home Visits and Fittings
 Wardrobe Consultation
 Custom Fit Clothing and Shirts
 Personal Shopping For Birthdays, Holidays and Anniversaries
 Corporate Gifts
 Corporate Image and Logo Sportswear
COME VISIT OR CALL US AT 864-232-2761 (TOLL FREE 888.588.RUSH) OR SCHEDULE AN APPOINTMENT TO FIND OUT MORE!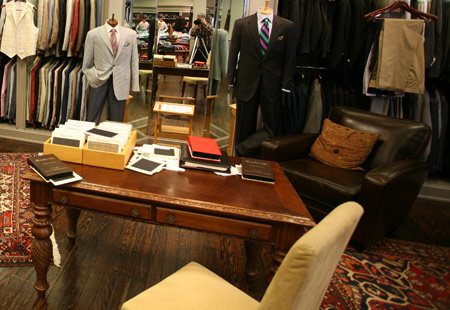 The Rush Wilson Limited Staff
Rush Wilson III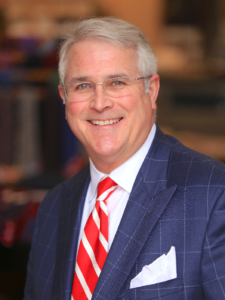 At age 23, Rush Wilson opened Rush Wilson Ltd. in Davidson, NC in 1950. This is where Rush Wilson introduced the natural-shouldered, New England style to the southeast.  Looking for a second location, Rush decided to expand to Greenville, SC in 1959. The store was originally located on North Main Street.  In 1978, Rush Wilson Limited moved to its' present location at 23 West North Street to make room for the Hyatt Hotel and Convention Center.
Growing up in a "retail family", Rush's son, Rush III, worked in the store as a teenager sweeping the floors at age 13 and selling his first suit at age 15. He continued working in the business part-time through high school and college. After serving four years as an Army officer, Rush III came home to join the family business.
You may reach Rush at rush@rushwilson.com
Jay Wilson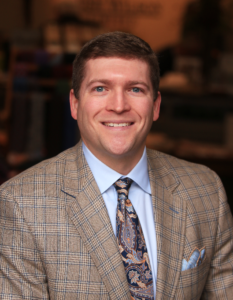 James "Jay" Rush Wilson IV quite literally followed in his father's footsteps while helping at the store as a young child. Jay went on to graduate from Presbyterian College, which prepared him to begin a career in banking at Carolina First, now commonly referred to by TD Bank. After seven years, Jay seized the opportunity to rejoin the family business in 2014. With a lifelong appreciation of classic American style and a commitment to excellent customer service, Jay strives to outfit any generation with the hand-selected, high quality menswear Rush Wilson Limited is celebrated for. As the third and youngest to work at Rush Wilson Limited, Jay hopes to continue the family business and one day pass it on to his children like his father and grandfather before.
You may reach Jay at jay@rushwilson.com
David Vinson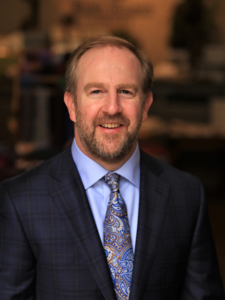 David Vinson, a lifelong resident of Greenville, South Carolina and graduate of Clemson University joined the Rush Wilson Limited team in July of 2019. Previously, Vinson served as a member of the management and customer service team at Mast General Store for over 15 years. He enjoys spending time in Clemson on Lake Hartwell during the cooler seasons and has fun sharing fishing stories from the lake, the South Carolina coast and the North Carolina mountains. David and his wife Jean love hiking and taking photographs in the mountains and when around the house spend most of the time together in their garden. Vinson looks forward to continuing to build relationships with others while being a part of the Rush Wilson Ltd. team.
You may reach David at david@rushwilson.com
Allison Underwood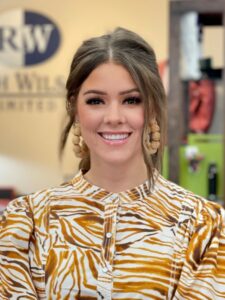 Allison Underwood grew up in Aiken, South Carolina, and attended the University of South Carolina where she majored in fashion merchandising and textiles. After college, she gained several years of experience in corporate merchandising and high-end women's fashion before joining the team at Rush Wilson Limited. Allison enjoys working out, staying up to date with the latest trends in fashion, and traveling with her husband.
You may reach Allison at allison@rushwilson.com
Allison is on leave through September 30, 2023.
Mark Hunter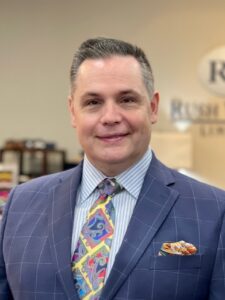 Mark Hunter was born and raised in Atlanta, Georgia. He graduated from Georgia State University with
a degree in business administration. In 2019, Mark and his family moved to the Upstate of South
Carolina to be closer to family. He enjoys spending time with his family walking through downtown
Greenville, going to concerts and musicals, and driving to North Carolina for apple picking and visiting
pumpkin patches each fall.
He started his retail career prior to college and has held roles ranging from sales associate to clothing
buyer, and most recently store management. Throughout his career, he has been privileged to work in
men's clothing at Neiman Marcus, Saks Fifth Avenue, Nordstrom, Dillard's and served as the men's
manager at Mark Shale in Atlanta for 9 years.
Mark longed to start working with his clients in a more intimate way again and joined Rush Wilson Limited to
grow and enjoy a fashion forward, upscale men's clothing store in Greenville. He strives to wardrobe
and outfit all of his clients in the latest fashions while also ensuring the best fit. He is always welcoming
new clients at Rush Wilson Ltd.
You may reach Mark at mark@rushwilson.com
John Blaine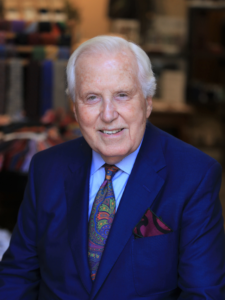 John Blaine was born and raised in Chicago, Illinois. After attending a small college, John joined the U.S.A.F Security Service. Following four years of military service, John returned to Chicago and graduated from Northwestern University.
A small men's shop near NWU caught his eye, and taste therefore inspiring him to make a living in the men's clothing retail industry. After managing and owning men's retailers outside of Chicago, John and his wife, Barbara, decided to retire in Greenville, SC. John has been part of the staff at Rush Wilson Limited since December of 2018 and looks forward to sharing his expertise with Rush Wilson Limited clients for many years to come.
Don Hamilton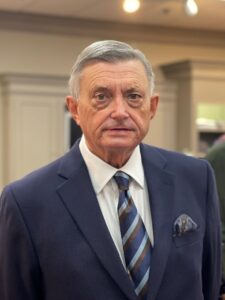 Don Hamilton is a life long resident of Easley, SC. Graduating from Clemson with both a Bachelors and a Masters degree, Don began a 46 year career in structural engineering. After retirement, Don began a new journey with Rush Wilson Limited, where he has shopped since college. He enjoys the beach, Clemson football, golf, and of course, fine men's clothing.
You may reach Don at don@rushwilson.com
Walter B. Estes Jr.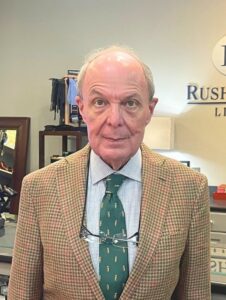 You may reach Walter at walter@rushwilson.com
The Rush Wilson Limited Support Staff
Amanda Wilson
amanda@rushwilson.com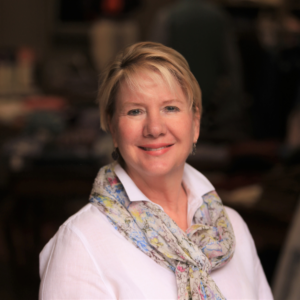 Mary Lee Tierney
marylee@rushwilson.com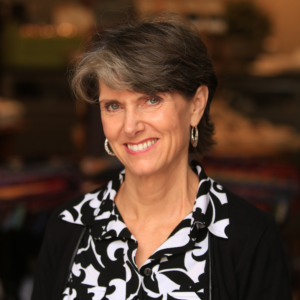 Jason Klein
.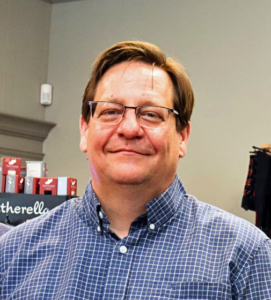 Liz Powers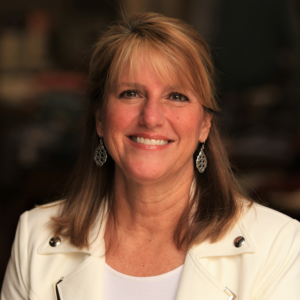 Robert Deiwert