RUSH WILSON LIMITED OFFERS A VARIETY OF PERSONALIZED SERVICES TAILORED TO THE NEEDS OF OUR CLIENTS:
 In-Office or In-Home Visits and Fittings
 Wardrobe Consultation
 Custom Fit Clothing and Shirts
 Personal Shopping For Birthdays, Holidays and Anniversaries
 Corporate Gifts
 Corporate Image and Logo Sportswear
COME VISIT OR CALL US AT 864-232-2761 (TOLL FREE 888.588.RUSH) TO FIND OUT MORE!
The Rush Wilson Limited Staff
Rush Wilson III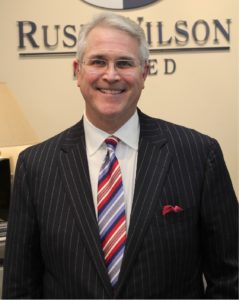 At age 23, Rush Wilson opened Rush Wilson Ltd. in Davidson, NC in 1950. This is where Rush Wilson introduced the natural-shouldered, New England style to the southeast.  Looking for a second location, Rush decided to expand to Greenville, SC in 1959. The store was originally located on North Main Street.  In 1978, Rush Wilson Limited moved to its' present location at 23 West North Street to make room for the Hyatt Hotel and Convention Center.
Growing up in a "retail family", Rush's son, Rush III, worked in the store as a teenager sweeping the floors at age 13 and selling his first suit at age 15. He continued working in the business part-time through high school and college. After serving four years as an Army officer, Rush III came home to join the family business.
You can reach Rush at [email protected]
Bob Torres
Bob Torres began his educational career at East Carolina with intent to major in music. Plans changed! Torres finished at High Point University as a foreign language major, while working at a fine men's store that specialized in service and attention to detail. Every employee worked toward a customer's wardrobe selection being satisfying and complete. That experience was the inspiration for a future that would include many years in retail department store management. "After a career of computer print outs and emphasis on numbers," Torres says, "I am pleased to be entering my tenth year at Rush Wilson Limited where the attention is on the customer, and the myriad of possibilities that can make a wardrobe complement his lifestyle."
Torres is fortunate to have learned a lot from his three daughters, all of whom went to universities on full scholarships. Torres will be playing all the tennis he can this year with his best friend, Patti. When working with a client, Torres is driven by the thought that there are a wealth of options from which to choose. With Torres' guidance, his clients will never have to worry about making the wrong choice!
Please call Bob Torres 864.232.2761 at Rush Wilson Limited or email him at [email protected] to schedule your wardrobe consultation appointment.
Mitch Bagwell
Mitch joined Rush Wilson Limited in October of 2016.
You can reach Mitch at [email protected]
Jeff Bostion
Jeff joined Rush Wilson Limited in October of 2016.
You can reach Jeff at [email protected]