RW Direct: A new and exciting way to shop!
Curated Outfits Delivered
We will post photos and descriptions of carefully crafted outfit designs, with you in mind. Once the outfit has been curated, we will ship it to you to try on at home, free of charge. Simply keep your favorites and mail back what you do not wish to keep using the prepaid shipping label provided inside your RW Direct delivery. If you decide to keep the entire outfit, receive 15% discount on your entire purchase!
If you would like us to tweak or curate an outfit just for you, set up a virtual shopping appointment at rushwilson.com/virtual-shopping and we will jointly select the perfect outfit for you.
Send us an email at info@rushwilson.com or give us a call at 864-232-2761 and we will get your outfit out to you!
A few great example options can be seen below!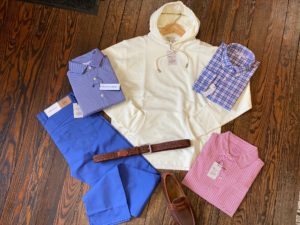 8.
Peter Millar long sleeve Seaside lava washed hoodie: $125
Peter Millar Seaside broken twill five pocket pants: $115
Peter Millar Seaside Galleon long sleeve multi check sport shirt: $148
Peter Millar Seaside wash polo, red: $95
Mizzen and Main performance long sleeve sport shirt, blue: $125
Braided belt: $95
Trask Derek Driver moccasins: $195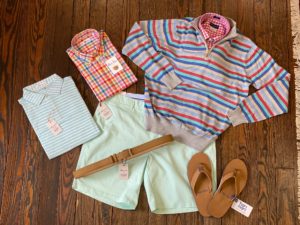 9.
Peter Millar crown sport natural touch polo: $94
Peter Millar long sleeve Tides Tattersall sport shirt: $248
Peter Millar Crown soft summer striped sweater: $175
Alan Paine long sleeve cotton sport shirt, multi check: $145
Peter Millar Crown comfort twill shorts: $115
Peter Millar NuBuck belt: $125
Hari Mari Fields flip flops: $60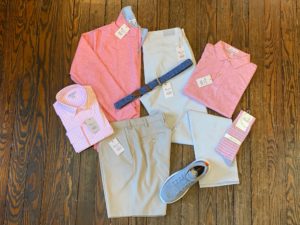 10.
Peter Millar Crown Sport five pocket pants: $149
Peter Millar Crown Sport Salem high drape performance shorts: $89
Peter Millar Crown Sport natural touch polo, red ginger: $94
Peter Millar Crown Sport Winston check woven shirt, palmer pink: $149
Peter Millar hyper light glide shoes: $155
Peter Millar cotton melange braided belt: $125
Peter Millar socks: $25