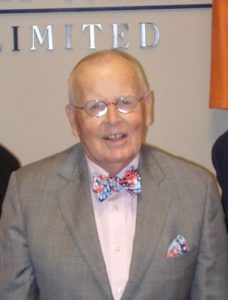 It is with a saddened heart that I pass on this news to you. Dale Holland passed away last night, Tuesday, November 29th. He was 89 years old.
Dale had a well-respected career as a clothing consultant, outfitting gentlemen here in Greenville for close to 62 years. He began his clothing career in Greenville at Meyers-Arnold, a locally owned department store where he worked for 5 years. Then he served his customers at Lees-Wright and A. Meyers, both small independently owned stores in Lewis Plaza for 35 years. Dale came to work with me at Rush Wilson Limited in 1987 and retired after 22 years of faithful service at the age of 82.
Dale had an esteemed reputation as a "Clothing Man." He served his clientele with love and attention. And they loved and respected him too. He was a sweet and kind man who was loyal and thoughtful. He had a quick wit and always had a twinkle in his eye. He was part of our family and that of all his clients, as well. We will miss Dale, his chuckle, and his signature bowtie.
Dale's funeral is scheduled for 1:00 pm on Friday, December 2nd at Thomas McAfee Funeral Home at 639 N. Main Street in Downtown Greenville. There will be a visitation beginning at 12:00 noon prior to the service at Thomas McAfee Funeral Home.
God's Speed, Dale.