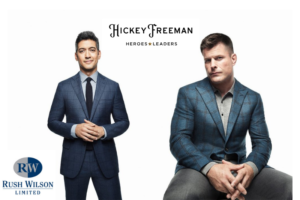 Hickey Freeman
Tim Gittins, Hickey Freeman's representative, will be in the store to help with your selection of fabric, model, and fit. Enjoy special event pricing.
The HEROES & LEADERS program supports returning veterans with suit donations and volunteerism. Help us create awareness and celebrate veterans and their success after service by shopping at the show.
---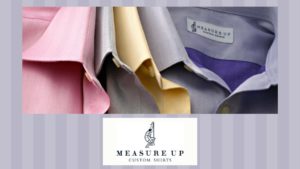 Measure Up Custom Shirts – Buy 5 and get the 6th for free.
Are you wearing a shirt that makes the most of your individual physique? For example, did you know the staff at Rush Wilson Limited will help you choose a collar shape that best fits the contour of your face? You may also customize cuffs, pockets and monograms, shirt tail length and each sleeve length (yes, most people have arms of different lengths). Our job is to help you select fabric, style and detail that will make every shirt a pleasure to wear. Your job is to enjoy looking and feeling great! Our experienced staff will be ready to help with model, fabrics and fit. We will also have a selection of fabrics at a special value to be made into custom shirts. Please call us for an appointment so we may offer you our undivided attention. A special offer for you: when you order 5 shirts, you will get the 6th shirt free!
Trunk show offers expires Saturday, October 20th.