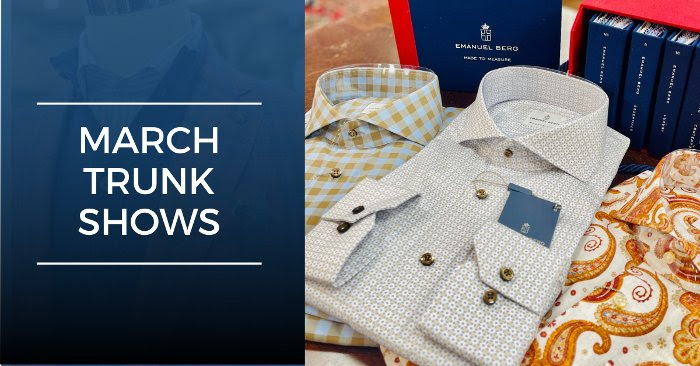 | MARCH TRUNK SHOWS COMING TO RUSH WILSON LTD. | |
| --- | --- |
Thursday, March 24

Hickey Freeman – 15% savings!

America's famous luxury clothing brand for 120 years. Tim Gittens, Hickey Freeman's representative, will be in the store to help you with your selection of fabric, model and fit.

Rochester Tailored Clothing (The New Southwick) – 15% savings!

Made in the U.S.A. manufactured in Rochester, NY, Rochester Manufacturing has replicated all the traditional and modern clothing patterns once perfected and offered by Southwick, which has closed its operations. Using Classic natural shoulder styling and quality canvas front construction, Rochester delivers traditional clothing at its best.

Emanuel Berg Custom Shirts – 15% savings

Known for manufacturing the late Robert Talbott Custom Shirts, Emanuel Berg offers impressive made to measure shirts featuring hundreds of details including collars, cuffs, pockets, stitching, contrast linings, and more.

Trunk show specials will expire Saturday, April 9th

Friday, March 25

Oxxford Clothes – 15% Savings on in-stock or made to measure orders!

The quality inherent in Oxxford Clothing is unapproachable by mass production methods and is esteemed by those who demand luxury and endurance in any object they possess. Like all objects of character, they endure with grace.

Chris Brueckner, Oxxford's President of Sales, will be in the store to help you with your selection of fabrics and model. He will also be showing a special group of featured fabrics at a special value.

Trunk show special will expire Saturday, April 9th.

We look forward to seeing you in store to shop and save on these incredible brands. Exclusive savings will be available.

See you soon and happy shopping!