They built Stantt to make it simple for you to look sharp. Powered by data and technology, Stantt is challenging the way the apparel industry has approached sizing for over a century. Hal Jenson will be in the store to help you with your measurements and style selection. Enjoy a 15% savings all day Saturday on Stantt.
Did you know that traditional sizing has been around since the Civil War? And, it turns out, it only gives 15% of us a perfect fit. Stantt has challenged the rules and built a new approach with 1 goal in mind – making it simple for you to get a perfect fit.
THE STANTT WAY:
– 99 SIZES BORN FROM DATA
– CRAFTED ONE AT A TIME, JUST FOR YOU
– 98% GET A PERFECT FIT
– 100% SATISFACTION GUARANTEE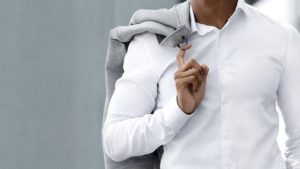 In addition to Stantt, we will also have BRAX Feel Good, Cattamarra printed leather and Alan Payne representatives in house that day.