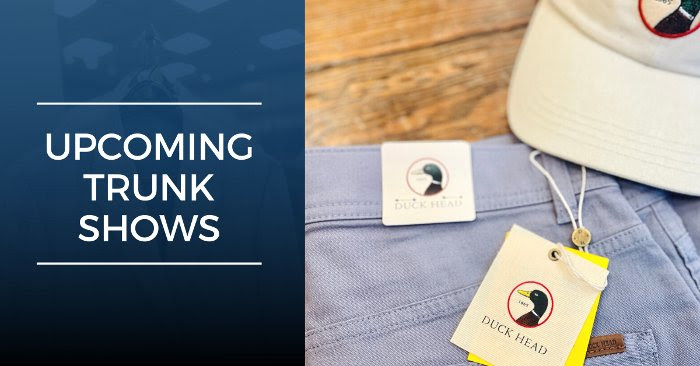 SAVINGS & SPECIAL INCENTIVES!
We hope you enjoy our weekend of trunk shows at Rush Wilson Limited!
Friday – Saturday, April 29th – 30th
Hari Mari – For Men and Women
Flip Flops and footwear. Using innovative materials, colors and design, Hari Mari offers footwear with comfort, free of painful break-in periods, that match both your daily moods and adventure. See the entire line for both men and women.
Duck Head – Free gift with purchase
The Icon is back! Join the revival!
Starting in 1865, brothers George and Joe O'Bryan started making work pants from surplus Army tent material called "Duck." They added the word Head, complete with the Mallard logo to create the brand. a brand once owned by Delta Woodside, here in Greenville, Duck Head became a southern icon on high school and college campuses. Duck Head produces garments of enduring quality and timeless style. Cullin Mann, Greenville resident and Duck Head representative, will be present to help with your selections.
Trunk show special will expire Saturday, May 7th.
Happy Shopping!