While there are a lot of things in life you can't control, there are some that allow you to modify based on your preferences. For instance, you can choose to wear men's clothing that makes you both look great and feel good.
When you have your choice of clothes in check, you're always ready to face any sudden events that come your way – even those out of your control. A sudden meetup, a quick invitation for a lunch date, or a spur-of-the-moment attendance at a formal gathering are just some of the possible situations. But with a wardrobe full of clothes you can confidently wear, your attire is no longer part of your worry.
Creating a Men's Clothing Wardrobe
Even men can build a stylish wardrobe from scratch. It's not as complicated as most people think, especially if you know some of the most fundamental principles. To help you along, here's a roadmap you can easily follow to get your wardrobe up in no time.
Ensure You Have The Essentials in Your Wardrobe
Your closet should always have clothes appropriate for the season – several sweaters for fall or some loose shirts for summer. However, you should still keep certain clothes in your wardrobe that are timeless and stylish, including men's formal wear.
Plain white t-shirt:

This type of shirt is beyond style and occasion. You can wear it under a jacket or on its own. You can pair it with jeans, khaki shorts, or chino pants, as long as it fits your body well.

Plain denim jeans:

You can't go wrong with having a pair of jeans in your wardrobe. While there are different styles and colors available these days, you should have at least one pair of jeans in classic plain blue color. But you don't need to buy a new one. Even an old pair of jeans can look good – just make sure it still fits you nicely.

Polo shirt in plain color:

A plain-colored polo shirt with no large design or stripes should always be part of your armoire. It can be your quick go-to shirt if you're going to a casual or semi-formal event.

Navy suit:

Like weddings, formal events are not everyday occasions. However, if they pop up, you should always look sharp and snappy to leave a good impression.

Silk tie:

Your navy suit should always have a necktie to go with it – one that can be appropriate for any occasion. So, you ought to have at least one plain-colored silk tie in your clothing collection.

Black leather shoes:

In the same principle as the suit and tie, you also need to have classic lace-up black shoes in your wardrobe. While it goes well with any men's formal wear, it can also be part of your everyday workwear.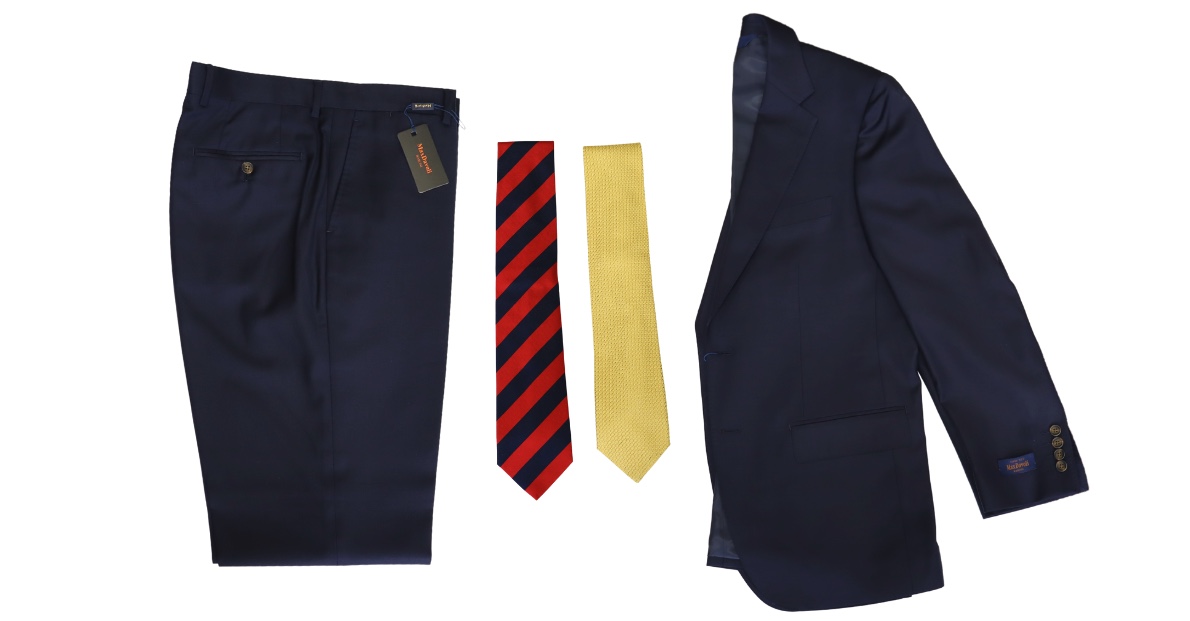 Identify the Styles you Want to Achieve
With the essentials covered, it's time to add items that speak to you and allow you to express yourself freely. But before picking just about any clothes you feel like wearing, you should evaluate what type of style you'll be exuding for a long time. You can focus on casual and rugged wear – fashion pieces beyond fads or short style trends.
Would you like to come off as sporty or someone who loves to wear rugged clothes? How about an individual who consistently dresses in casuals or even classic looks? Regardless of your choice, keep in mind that you don't need to stick to just one style. You can be sporty today, then go with an edgy style the next day.
Learn How to Match Men's Clothing
You can't expect everyone to be born with a knack to match clothes and colors quickly. Even if you have this coveted skill, it can be very helpful to keep matching clothing in your wardrobe, especially for impromptu events.
While you should, for the most part, make your style an expression of yourself, you should ensure that they always match. Ill-matched clothing is like wearing sneakers on your left foot and a brown brogue on the right.
Not so sure about your color matching skills? You can always stick with classic pairings such as brown or khaki with white. Then, there's also navy with gray. Or you can pair gray with green.
If you're an adventurous type, remember that base color is the foundation. Find the base color of what you want to wear, then explore variations of this color for your other piece of clothing.
Build Your Wardrobe the Easy Way
Building a men's wardrobe is undoubtedly fun. Doing so will not only help you have a set of clothes you can depend on for any occasion or season. It will unleash your creativity as well. However, if you still find this task quite daunting, you don't have to get stressed. Rush Wilson Limited is an exceptional men's clothing store that can assist you in creating a wardrobe that will suit your preferences.