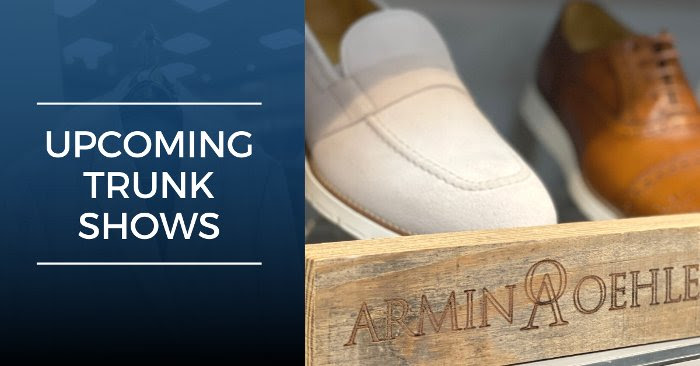 APRIL SAVINGS & SPECIAL INCENTIVES!
Check out our trunk show line-up this weekend at Rush Wilson Limited!
Friday, April 22nd
Coppley – 15% Off in-stock or special orders
Known for their quality, full-canvas construction, and comfortable fit, Coppley offers two custom services:
For the customer who needs minimal sizing modifications, Coppley delivers semi-made to measure suits, sport coats and trousers in 2 weeks.
For those who require more extensive measurements, Coppley's full made to measure is delivered in only 3 weeks.
Mark Landis, Coppley's representative, will be present to give advice on fabric, model and fit. During the trunk show period, enjoy a savings of 15% off any suit, sport coat and trouser from stock or special order.
Armin Oehler – Gift with purchase
Headquartered in Greenville, SC, Armin Oehler, the youngest son of the 6th generation of a luxury leather supplier in the Stuttgart area of Germany, designs and engineers classic men's shoes with premium leather from the family's tannery while adding Southern sensibility with a modern European feel.
Armin will be in the store all day to help with your selection and fit. Receive a gift with purchase from this new up and coming shoe company.
Eton Shirts – Special Event Incentives
Eton offers premium dress shirts that are crease resistant. Casual shirts, soft washed shirts and formal shirts, all made in Sweden, Eton is the standard of quality and fit that many shirt manufacturers around the world strive to emulate.
Trunks show specials expire Saturday, May 7th.
Happy Shopping!