Fashion and comfort aren't exclusive. It's possible to stay stylish with trending summer attire for men and beat the sweltering Greenville, South Carolina, summer heat.
So, whether you're planning a formal night at the Peace Center, staying cool in the office, or looking to kick back and relax at your favorite vacation beach spot, you can keep the same high fashion quality that defines you.
Learn how to look 100% while feeling your best with Rush Wilson Limited's locally tailored men's clothes for summer.
Keep the Fabrics Cool
Choosing cotton clothes keeps you cool, wicks moisture more effectively, and allows you to breathe. In addition, cotton is comfortable in the southern heat, looks excellent, and is easy to care for to ensure you always have a clean shirt handy.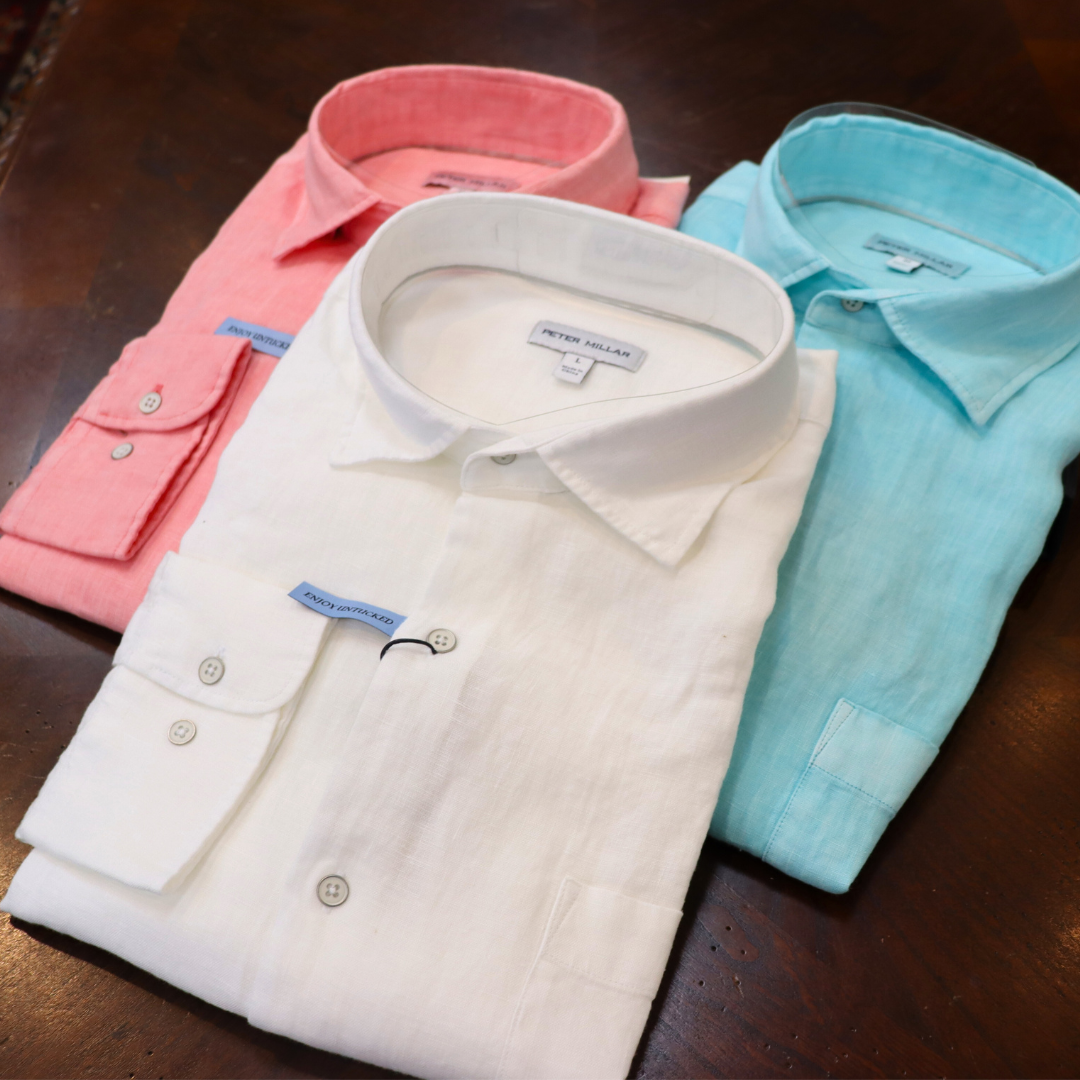 Are you looking to dress it up a little extra for an evening dinner in Downtown Greenville? Try linen. It's a very lightweight material, ideal for those hottest days in summer.
Breathability is more critical than being lightweight. Breathable materials allow air to circulate through the fabric. Fabrics with natural ingredients are far more breathable than synthetic fabrics. Natural materials also hold fewer odors, keeping you smelling fresh all day at the office.
Light fabrics not only keep you cool, but they dry faster. So, if you sweat some, it won't be visible for long on your clothes.
Dress Formal Wear Down
Summer is not the time for your three-piece suit, but that doesn't mean you can't look just as sleek in formal attire. You can take a unique twist to classic looks by choosing just a few dressy pieces rather than a complete outfit.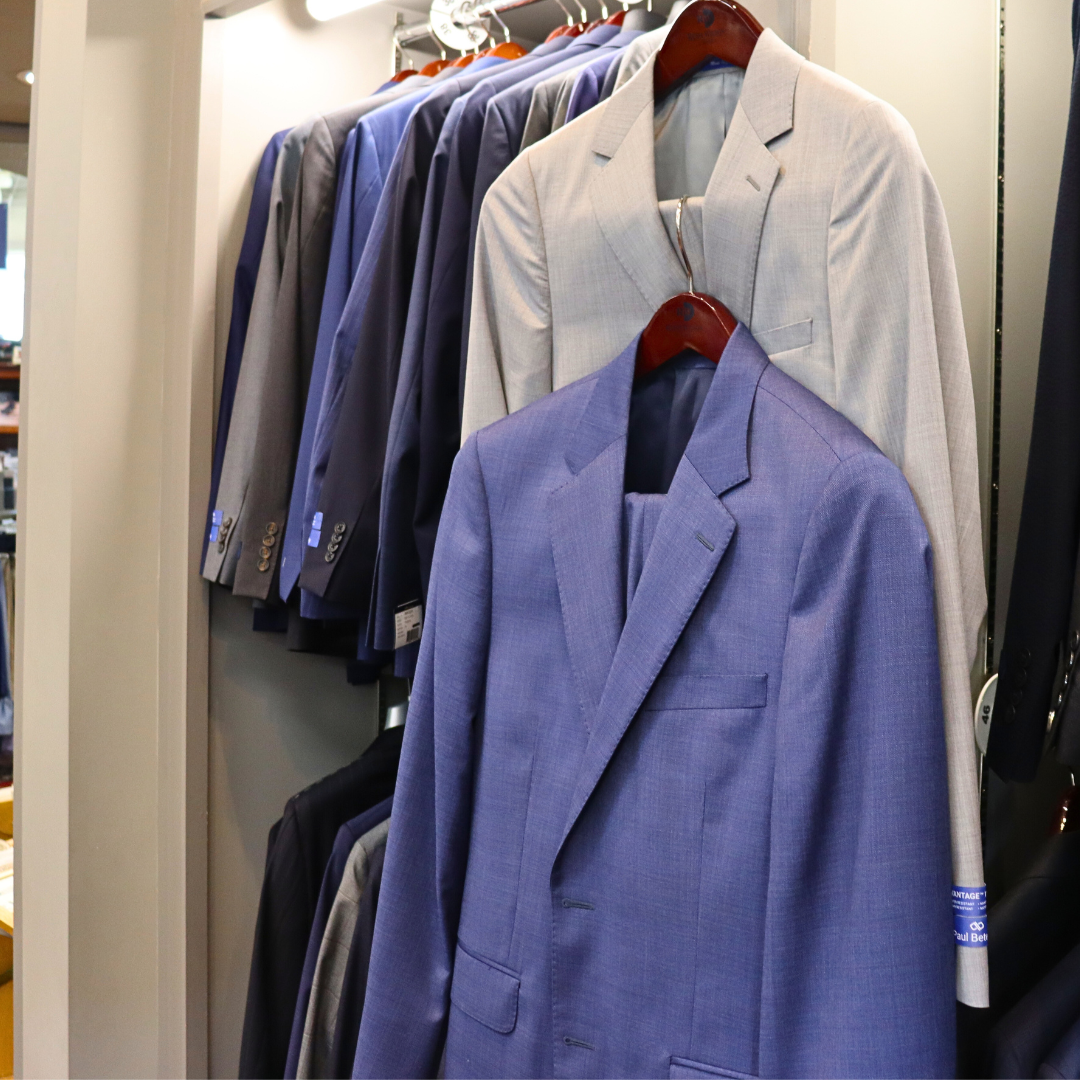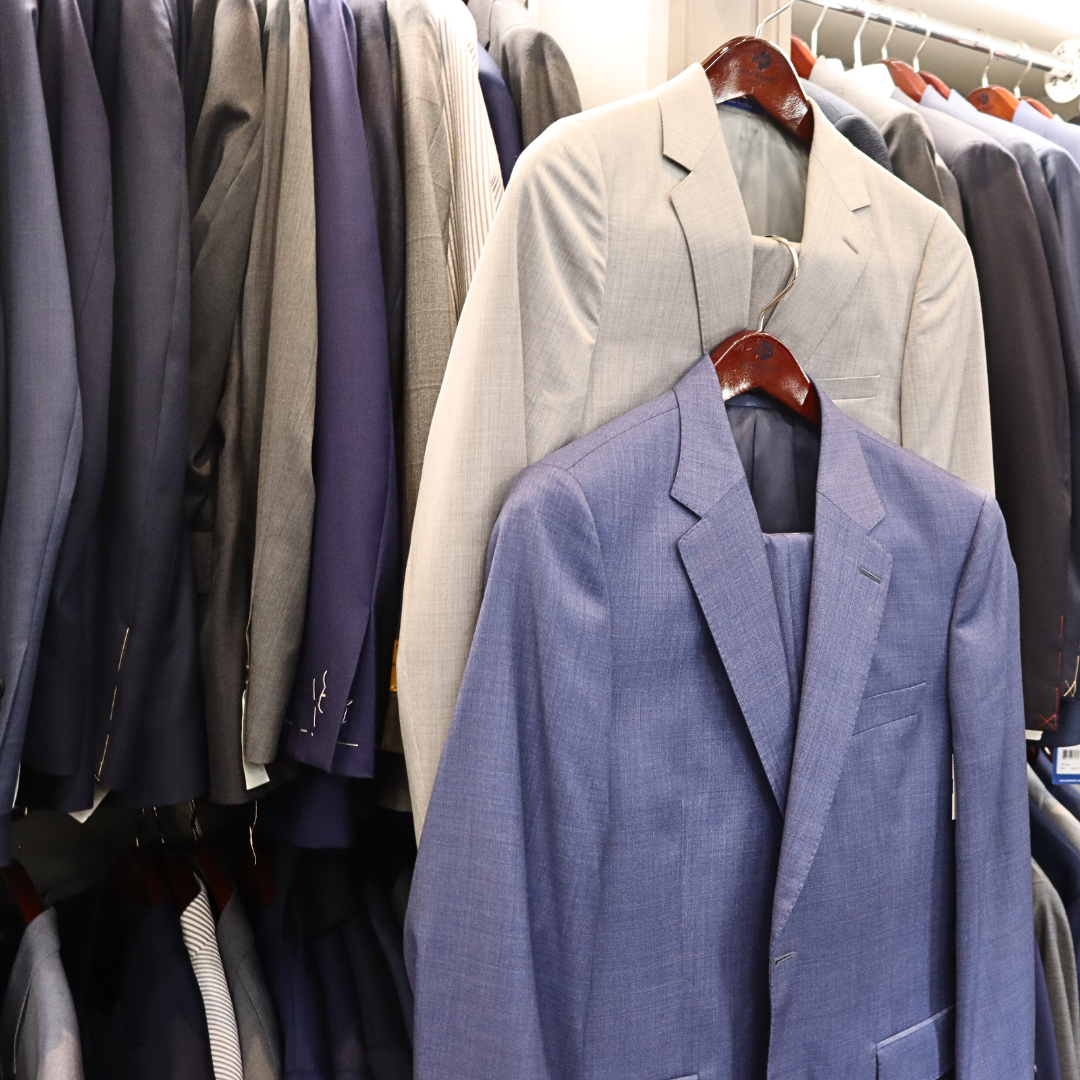 For instance, why not skip the blazer and keep the vest and button-down shirt? You can also roll up your sleeves to turn a formal top into a cooler and slightly more casual look.
Do you have a formal event that requires a blazer or jacket? Skip the synthetic inner lining so your blazer remains cool and breathable while looking just as stylish.
Keep Your Fit Relaxed
Slim fits work best with your winter wardrobe. However, in the summer southern heat, you'll appreciate looser clothing. Loose shirts and pants allow for more airflow and comfortable movement, keeping you cool.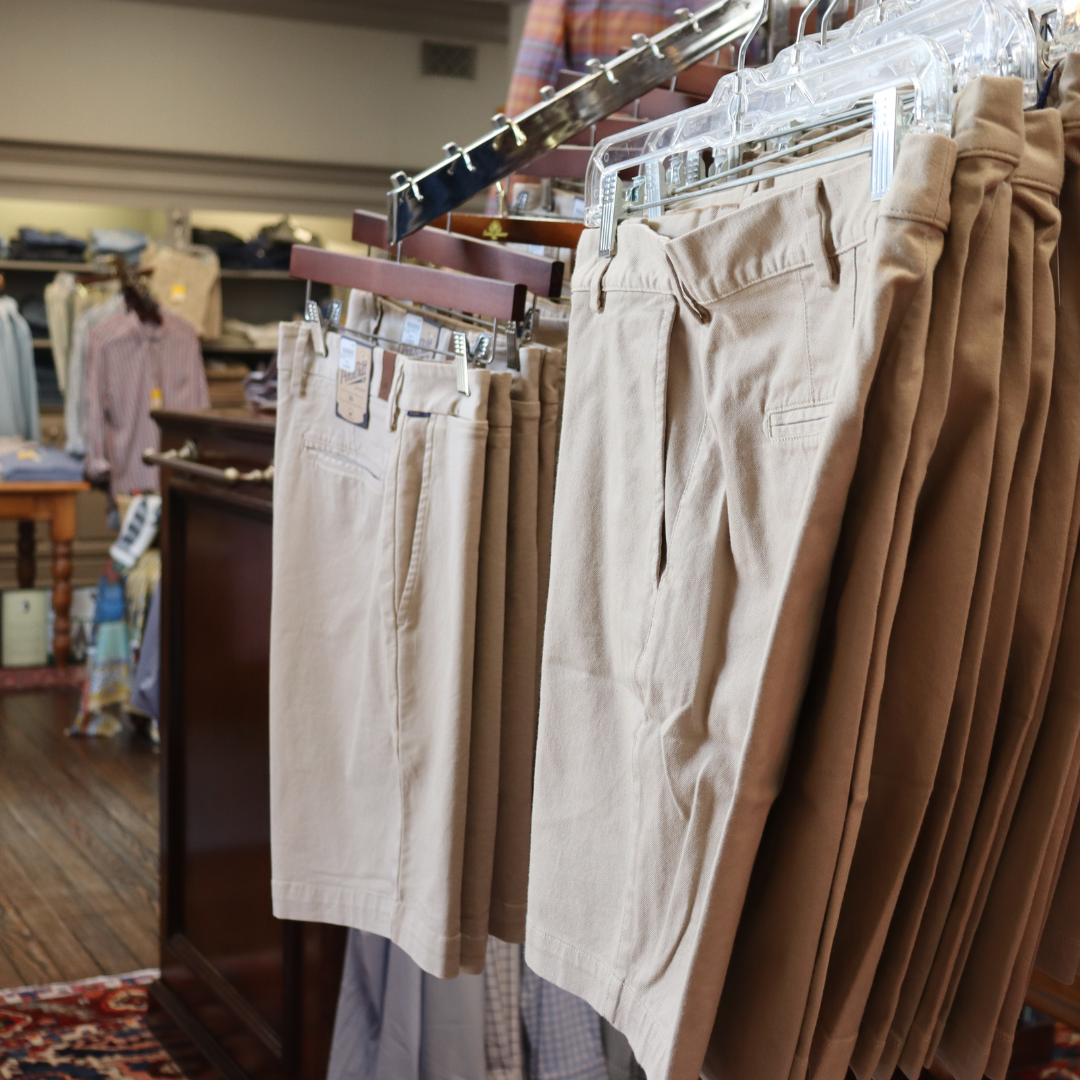 Just ensure the loose clothes fit properly so they don't look baggy or unkempt. For a looser fit, adjust your clothes cut rather than the size. You can look very stylish and formal in a casual-fit linen shirt buttoned down the front and paired with cream pants.
Tailoring men's summer clothing to your body shape ensures your casual cut outfits fit correctly.
Choose Light Colors
Light colors reflect more light. That means your clothes will absorb less heat, helping you feel cooler. So, pick a light blue polo and light-color khaki shorts over your navy pants and a black t-shirt.
Some of the best summer colors include:
White

Khaki

Light blues and greens

Yellow
If you're going to a formal event, opt for a light gray or light blue suit over black or dark brown. Beach vacations are perfect for your white and turquoise clothes.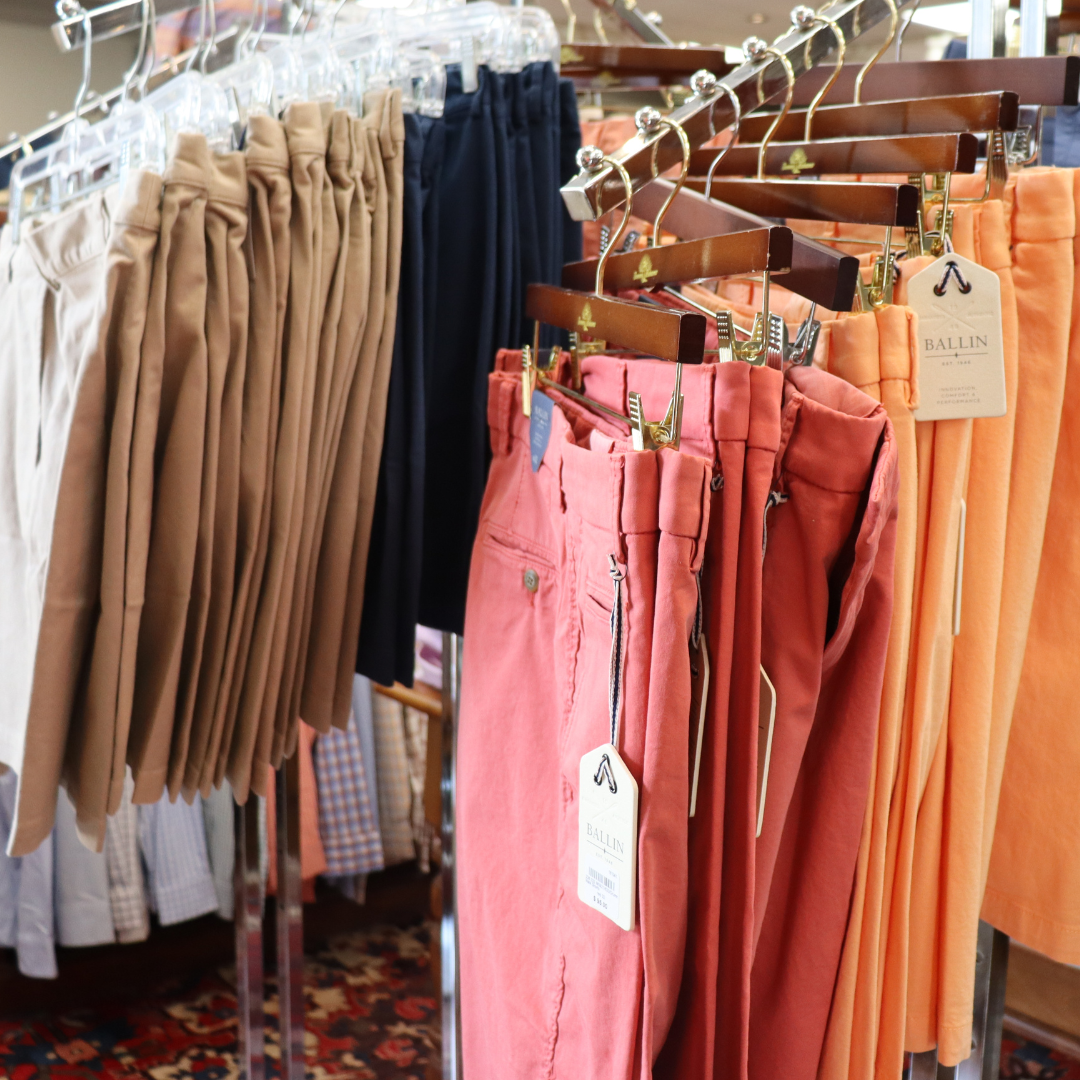 Have fun this summer by getting creative with your wardrobe colors.
Don't Forget Sun Protection
Clothing also protects against the sun, especially as days grow longer, so those after-work hangouts still expose you to the sun's rays. Adding a classy, brimmed hat protects your face while adding extra flare to your outfit.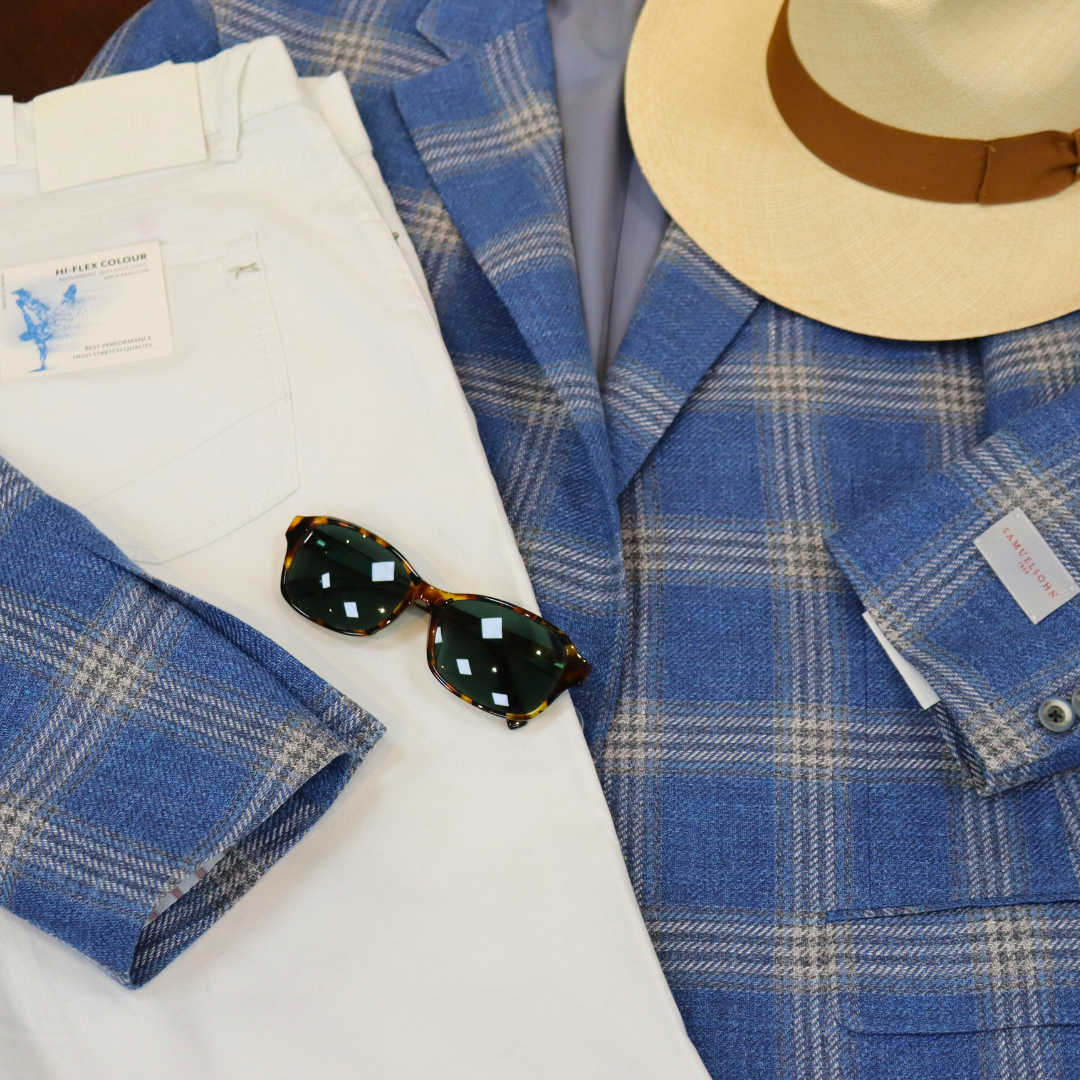 Also, consider outfits with more coverage. While short sleeves and shorts may seem the obvious choice for summer, you can stay just as cool with long sleeves and pants. Just be sure you choose lightweight and breathable fabrics like linen. That way, it adds that vital extra layer of protection against the sun.
Sunglasses are the perfect accessory to top off your summer outdoor outfit. Pick out several styles that fit both formal and casual events.
Fit out Your Feet
You don't need sandals or flip-flops for your feet to breathe in the summer. Instead, a light pair of loafers or moccasins can be just as effective.
When wearing summer shoes, don't forget breathable cotton socks. They protect your shoes from sweat and keep your feet feeling dry by preventing sweat buildup in your shoes.
Play up the Accessories
Make your summer wardrobe as striking as your winter wardrobe by adding more accessories.
Take special note of your watches, belts, and jewelry since your lighter and shorter summer clothes allow you to show off those accessories more. They'll turn ordinary outfits into trending looks. 
Accessories are also an ideal way to express your unique personality.
Find Your Custom Fit and Look
You can confidently walk into this summer season when you locally tailor your wardrobe. Rush Wilson Limited will help you fill out your Greenville summer wardrobe with all the essentials for every occasion, from the office to a night in town. Every piece will fit your body perfectly and help you stay cool and comfortable while looking sleek and stylish.
Schedule an appointment today to find your perfect summer fit and accessories.