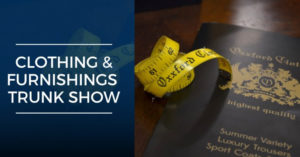 Shop Our Made to Measure Clothing!
Most of our Made to Measure manufacturers are back in production again! Shop our classic brands starting Monday, May 18th through Saturday, May 30th.
Also, starting on Monday, May 18th through the end of May, we are offering savings of 20% on all in stock clothing, as well as all Made to Measure from all our vendors. Whether you have a hard-to-fit physique or just want the luxury of individually selected fabric, model, details and fit of your new suit…our custom tailoring will satisfy your needs.
Please feel welcome to shop the store during our trunk show. We are following all guidelines and continue to practice social distancing to ensure the safety of our staff and customers. You may schedule a virtual or in-store appointment at rushwilson.com/appointments
Enjoy savings of 20% off these classic brands!
Including all shoes and neckwear, as well.