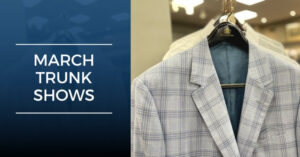 MARCH TRUNK SHOWS COMING TO RUSH WILSON LTD.
Oxxford | Tuesday, March 23
All American Trunk Show | Friday, March 26
Featuring Rochester Manufacturing, Alden Shoes and Gitman Bros.
We look forward to seeing you in store to shop and save on these incredible brands. Exclusive savings will be available.
See you soon and happy shopping!