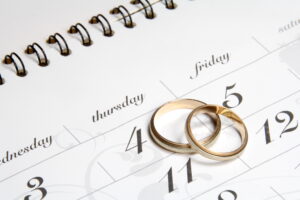 We understand primary focus of the Bride is to focus on the wedding, selecting her dress, the style of the wedding, food, and flowers. All that said, the groom needs to make some decisions as well! What to wear will have an impact on the overall look and feel of the wedding, too! Once the groom has an idea of the style of attire he wants for himself and the groomsmen, the next question becomes; to buy or to rent.
Renting is the most affordable option for all involved. Rush Wilson Limited offers a large assortment of rented tuxedos and suits in several different fits (classic, modern, and slim), as well as a large assortment of accessories, to help you find just the right look for your wedding.
Purchasing your tuxedo or suit gives you a higher quality look and more custom fit. You may decide between off-the-rack suits and tuxedos to custom or made-to-measure. Our experts at Rush Wilson Limited can make it easy! And you will be able to wear it again and again making it more affordable over the long run.
When should you start planning? You should start planning the wedding outfits 4-8 months out from the wedding date. Decide on the final attire no later than 3 months out, then share it with your groomsmen. We recommend making a list of everyone in the wedding party, including names, addresses, email, and cell numbers. Upon receipt, share that with us so we can help! If you are renting or buying off the rack, we can coordinate measuring all involved. Each groomsman is invited to come by the store to be measured for their fit. If they cannot come to Greenville, we will arrange for them to be measured by one of our friends who own clothing stores across the country or in a town nearby to be fitted.
Price Points:
Renting tuxedos or suits with the accessories ranges from $180-$225
Off the rack tuxedos and suits start at $595 and go up.
Made to measure starts around $995 and goes up from there.
Off the rack seasonal suits such as linen start at $295.