Now that you are engaged to marry the girl of your dreams, it is time to start planning your wedding! There is high probability that your bride already has some ideas about the wedding of her dreams…. However, you can be a part of the process and enjoy each step along the way, too!
Whether you get married in a church, a garden, the beach or other wedding venue, there are a lot of details that need to be planned. The clothes that you and your groomsmen will wear will be an important decision you should make. The venue, season of the year, time of day and your personal style will help shape your look. Let's talk about some options to get you started.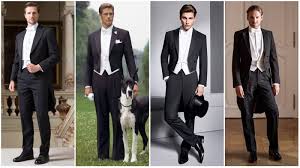 Formal – Evening Wedding "After Six"
If you desire a formal evening wedding with a formal invitation, then Full dress or Tails and white tie will create the most formal look and look of class and elegance. The outfit consists of black tailcoat, black formal trousers, white cotton pique wing collar shirt, white cotton pique vest and bowtie, with white mother of pearl studs and cufflinks and black formal shoes. All men in the wedding party should wear the same outfit.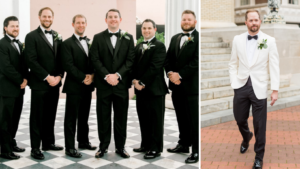 Tuxedo
If Full Dress is a little too formal, then consider a black or navy tuxedo. This attire is also perfect for an after 6pm wedding creating an elegant look. Black tuxedo is your traditional choice, and the navy tuxedo offers an updated look. Another option for a formal look is a white or ivory dinner jacket for the summer months or destination wedding.
You can go traditional where all the men in the wedding party wear the same outfit with black bow ties or you can get creative, and the groom wears the white dinner jacket and the groomsmen wear the black or navy tuxedo. Of course, the groom should shine, and all his groomsmen complement him.
With formal, after six weddings, your male guests may also wear their tuxedos or dinner jackets to the wedding if they wish.
For a Less Formal Look for a Less Formal Setting
So maybe you want to get married somewhere less formal, say the beach, the back yard garden, or in the mountains. You still have lots of options.
A suit can still offer a consistent semi-formal look. Navy or charcoal suits offer a versatile and year-round wear. Black or brown shoes can be worn. You may also consider a matching or contrasting vest. Your accessories such as necktie or bow tie can show your creativity and compliment the colors worn by the bridesmaids.
Khaki cotton, linen or seersucker suits are perfect for a summer or outdoor wedding in the morning, afternoon, or early evening. This offers a cooler alternative during the hot weather months, under the majestic oak trees or standing in the balmy breezes of the beach.
Blazers and contrasting trousers are another option for a less formal look. A classic navy blazer and grey or khaki trousers, white or blue shirts and colorful collegiate stripe ties give a look of sporty southern or east coast tradition.